Bellerive was the first school in Liverpool to set the trend of kilts being worn as part of the school uniform. We are very proud of how our girls present themselves, both in school and in the local community. Their distinctive look regularly draws praise and admiration from visitors to the school and members of the public alike.
We insist on the uniform policy being followed very closely as we believe that it sets the expectation high levels of behaviour. In doing so, it encourages among the girls a sense of pride and identity.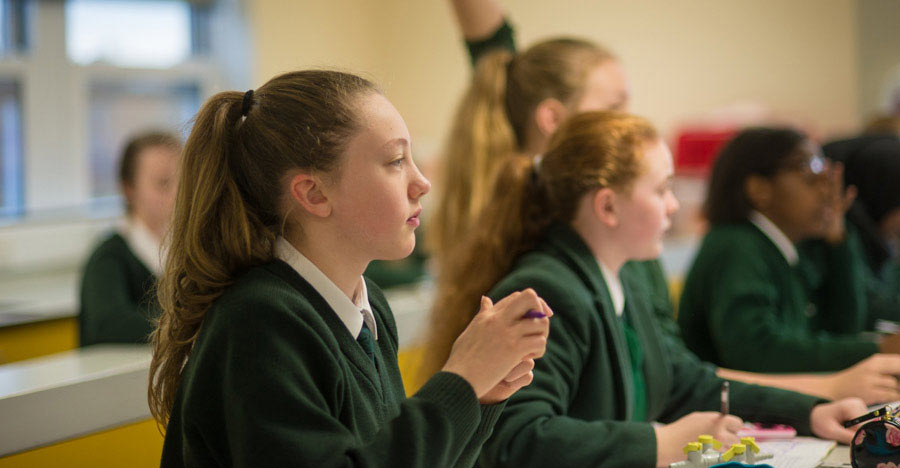 Outdoor
A green blazer with a school badge (compulsory for all pupils.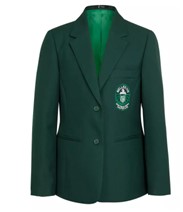 A plain black full length or 3/4 length overcoat or raincoat may be worn to and from school.
No logos or designer wear allowed. Short jackets are not allowed. Denim, fur, leather or suede coats/jackets real or imitation may not be worn to or from school or in school.
A top coat is optional. This does not replace the blazer, which is compulsory. A school scarf is optional. This is the only scarf allowed.
Indoor
School kilt (to be worn below the knee) or school trousers and tie.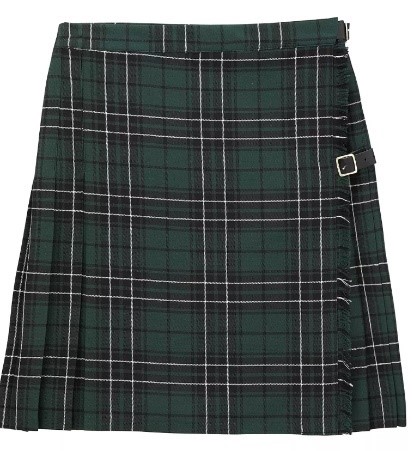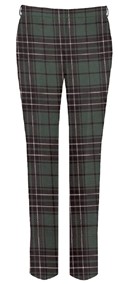 Bottle-green plain jumper (no longer required to have the school badge, although these can still be worn optionally)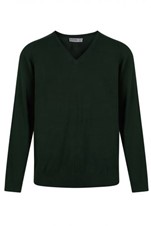 Years 7 to 9: White long sleeved button neck shirt/blouse with a school tie.
Optional: a white open-necked short sleeved blouse may be worn in the summer term only.
Year 10 & 11: White, open-necked blouse, all year – compulsory.
Shoes
School shoes should be black, flat and logo-free. We do not accept patterns or overly elaborate embellishments e.g bows, hearts, metal symbols. Shoes should be leather or leather-look. We do not accept plastic, fabric or jelly shoes.
No high-heeled or steel tipped shoes may be worn. Trainers must not be worn, except for P.E. Lessons.
Boots( i.e. footwear which covers the ankle bone) are not permitted
If the school finds a shoe to be inappropriate for school, the school's decision is final.
Socks and Tights
Plain White or Black or Bottle Green ankle socks or 3/4 length socks. Plain black tights may be worn.
Socks over the knee are not acceptable, nor are shiny or patterned tights.
PE Kit
Compulsory: Black, white and green shorts OR skort, matching PE shirt, black, white and green sports socks. Trainers should be mainly black with non-marking rubber soles. They must not be boots.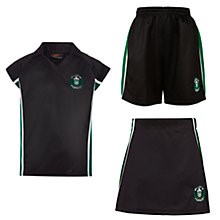 Optional: Bellerive Hooded sweatshirt and Bellerive leggings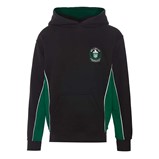 Pre-loved School Uniform & PE Kit
We offer a range of pre-loved school uniform and PE Kit for sale at the school. This is to provide more affordable options to parents and carers and to ensure that we limit the environmental impact from our uniforms.
All items received are washed and graded before being put on sale. Only garments that are in 'good or better' condition are put on sale.
All items and current stock levels can be found at our online shop. If the item that you require is out of stock please check back regularly for updates:
Your purchases will be bagged and you will be notified when they are ready for collection at the school.
This service is only available as a result of kind donations made by parents and carers. If you have any items of current school uniform or sports kit that is in 'good or better' condition please leave them at our Reception at our Bellerive Building on Windermere Terrace, L8 3SB.
Please note that we do not accept donations of any other used items
Additional Items
You are not required to purchase an apron for cookery or design technology. Some uniform retailers may include these items on their list of school uniform, but they are not required and are provided to pupils during their lessons. Again, some school uniform retailers may offer white blouses or school socks for sale. You should be aware that you are free to buy these items from any retailer or supermarket provided that they meet the school's uniform rules.