Year 12 & 13 Uniform
Sixth Form is more relaxed than school with more freedoms available for 16-19 students to express themselves. Guidance on our expectations is shown below.
Clothing
We have a uniform for 16-19 students as outlined below:
A black blazer with green lapel piping and Bellerive crest is compulsory for all pupils Y12-13 throughout their time in Sixth Form. These are available from School Trends
A black skirt or pinafore, both with a pleat, worn on or about knee-length. Girls may also choose to wear a pair of tailored trousers. Jeans, tracksuit bottoms and overly tight designs of trousers are not allowed.
Girls may wear a school tie with a white collared shirt or a revere collared blouse.
A dark coloured (navy or black) overcoat or raincoat may be worn to and from school. A coat is an optional item; this does not replace the blazer which is compulsory.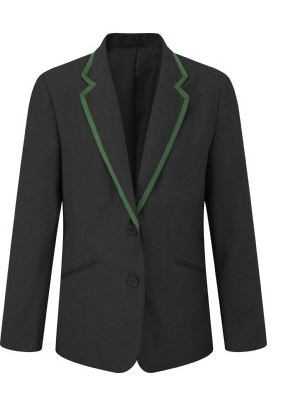 Jewellery & Makeup
Jewellery is permitted, but must be subtle. Any jewellery that is deemed too large will in the first instance be asked to be removed.
Piercings are permitted, but again they must be subtle – for example nose piercings are to have a stud or small piercing.
Make-up, including false tan, is permitted to be worn in school by Sixth Formers, as are false eyelashes, false/shellac/acrylic nails, nail varnish and French manicures.
Mobile Phones & Gadgets
Mobiles phones, smart watches, laptops and tablets are permitted to be used. They should only be used in lessons when instructed so by the teacher
Please note also that smart watches are not allowed to be worn during assessments and examinations.